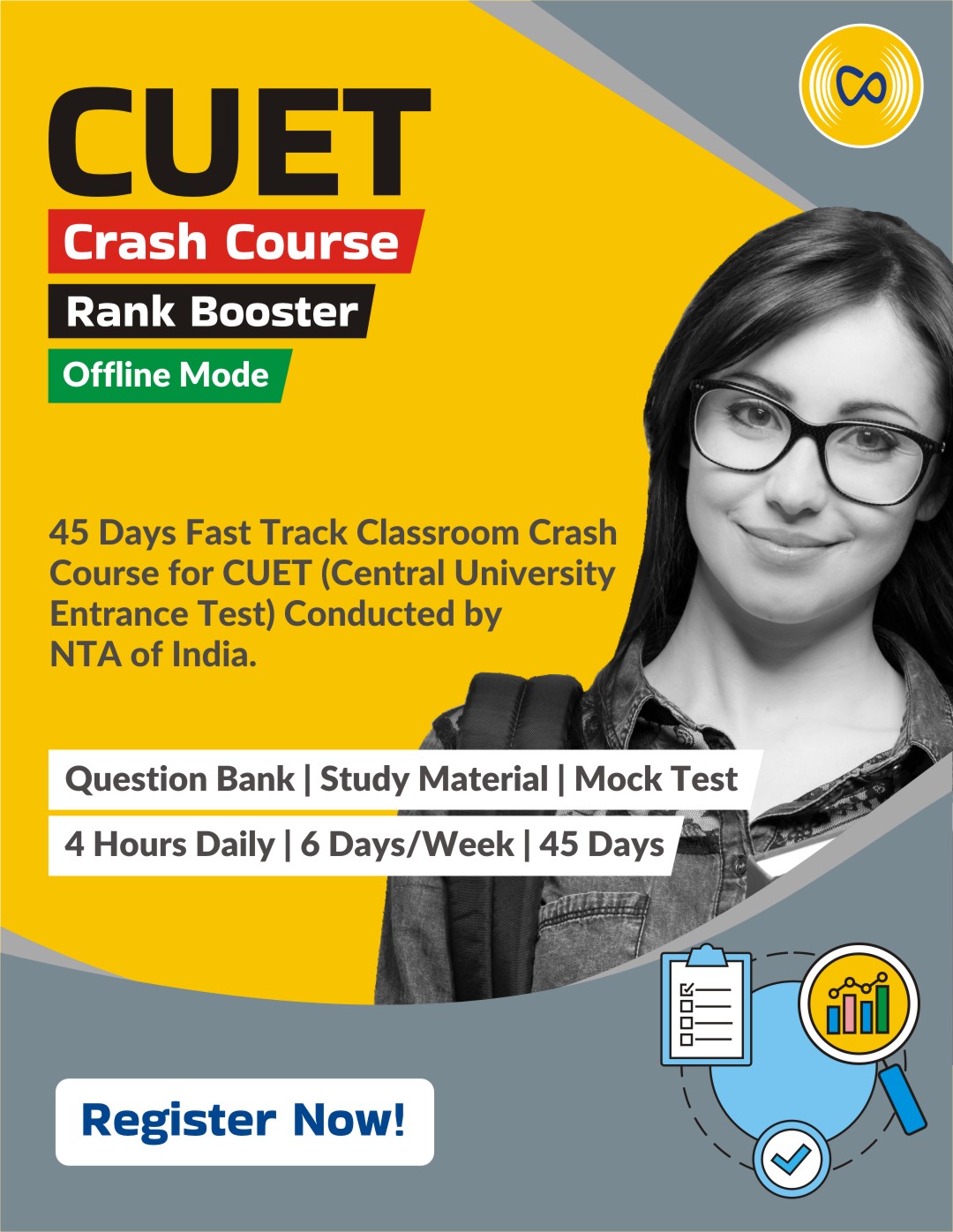 CUET Crash Course | 45 Days Coaching for NTA's CUET.
Parth-NEET:
2 Year offline NEET coaching for students of Class 11th. NEET is conducted by NTA for admissions into MBBS courses offered by various medical colleges across the country.
Syllabus to be discussed:
This course includes the whole 12th, 12th board and NEET syllabus of Physics, Chemistry, and Biology.
1st Year:
In first year whole Board and NEET syllabus of class 11th will be discussed. TWS, Home assignments will be given along with offline classroom sessions. Chapter/Part/Full syllabus test will be conducted during the course.
2nd Year:
In the 2nd year of the course, 12th board and NEET syllabus will be discussed. Class 11th NEET syllabus will be dicussed on weekends as NEET-UG exam will include syllabus of both the years.
NOTE:
NEET syllabus of class 11th will be revised free of cost on weekends in the 2nd year of the course.
Frequency and Course Duration:
Regular Classroom sessions will be conducted 5-6 days/week, Till NEET-UG exams.
There are several effective teaching methodologies for preparing for the IIT-JEE (both JEE-Mains/JEE-Advanced) and NEET entrance exams. Here are a few approaches that have been successful for many students:
Concept-Based Learning:
The IIT-JEE and NEET entrance exams require a strong understanding of concepts. Therefore, the teaching methodology is focused on teaching concepts, rather than just memorizing formulas. Our teachers break down complex concepts into smaller, more manageable parts, and use real-life examples to help students understand the material.
Regular Practice:
Regular practice is key to success in these entrance exams. We provide ample opportunities for students to practice and solve problems on their own. This helps students build confidence and improve their problem-solving skills.
Interactive Learning:
Interactive learning is an effective teaching methodology for engaging students and keeping them interested in the material. We use various interactive tools and techniques, such as quizzes, group discussions, and hands-on activities, to help students stay engaged.
Adaptive Learning:
Each student has their own learning style and pace. Adaptive learning is a teaching methodology that caters to the individual needs of each student. Our teachers use technology to create personalized learning paths for each student, which adapts to their individual strengths and weaknesses.
Mock Tests:
Mock tests are a valuable tool for preparing for the IIT-JEE and NEET entrance exams. Our scheduled and well planned mock tests helps to assess student progress and identify areas where students need additional support. Mock tests also help students get familiar with the exam format and build confidence.
Best teaching methodology depends on the individual needs and preferences of each student. Our teachers are flexible and open to trying different teaching approaches to help their students succeed.
Experienced Faculty:
Candid institute have experienced faculty members who have a strong academic background in the respective subjects like Physics, Chemistry, Mathematics/Biology for IIT-JEE (JEE-Mains and JEE-Advanced)/NEET . All faculty members have a good understanding of the exam pattern, level and syllabus and can provide effective guidance to the students.
Comprehensive Study Material:
We provide comprehensive, well researched and most relevent study material that covers complete syllabus of IIT-JEE and NEET. The study material is designed to be easily understandable by the students and includes solved examples, Topic Work Sheets, practice questions, and previous year questions.
Scheduled Mock Tests:
We at Candid Institute conduct regular mock tests to help students evaluate their performance and identify their strengths and weaknesses. These tests simulate the actual exam pattern and help students get familiar with the exam environment.
Personalized attention:
Small Batch size of 20 students/Batch ensures personalized attention to each student, identifying their strengths and weaknesses and helping them focus on their weak areas. They provide individual attention to students who need extra help in understanding certain topics.
Doubt-clearing sessions:
We conduct doubt-clearing sessions on regular basis to help students clear their doubts related to any topic. These sessions are conducted by experienced faculty members and provide students with the opportunity to ask questions and get answers in real-time. Doubt sessions are taken by the same subject teachers who take regular classes.
Use of Technology in Teaching:
We use technology based teaching methods like online classes, video lectures, and interactive sessions to make learning more engaging and effective.
Motivational Sessions:
We at Candid Institute conduct motivational sessions to help students stay motivated and focused on their goals. These sessions are designed to inspire and encourage students to work hard and achieve their dreams.
Parent-Teacher Interaction:
We keep parents informed about their child's progress through regular parent-teacher interaction. We welcome feedback on the child's performance and suggestions to improve their performance.
Offline Sessions
Teacher-Student interaction is most important for efficient learning and there is no better alternative than face to face interaction. Our offline sessions are conducted by Highly experiend subject experts to produce best results.
TWS and Study Material
Candid Institute has prepared best Study Material Topic Work Sheets (TWS) strictly according to level and syllabus of NEET which will certaily be benefical in the understanding and clarification of topic/out of the box tricky problems.
Home Assignments
We are working on developing question banks of accurate, productive and most expected questions since 2004. Our assignments contain lots of most expected question, brain teasers and questions which make you learn.
Preparation for prestigious exams like JEE-Mains, IIT-JEE (JEE-Advanced), and NEET is incomplete without regular mock tests. Scheduled and well-prepared mock tests in synchronization with the syllabus and level of the exam are a tradition in the candid institute.